Direct Imaging Services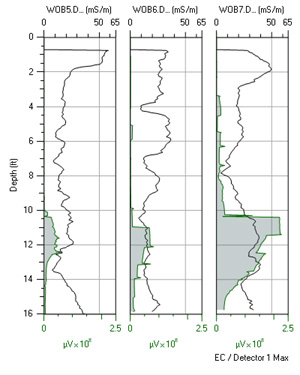 AEC has a fleet of drill rigs capable of meeting a wide range of our client needs and requirements. Our drilling and direct imaging capabilities are top of the line and are always at the cutting edge of today's technological limits. Our drill rigs are manned by licensed well drillers and expertly maintained to ensure the highest level of operational efficiency. Some of our capabilities include direct push soil cores, indoor sampling, soil and groundwater sampling, monitoring well installation and electrical conductivity/MIP logging (EC/MIP).
AEC uses GeoProbe's new and improved MIP 6520 probe which is more durable and reliable than those used in the past. The increased durability helps keep costs down and downtime to a minimum. AEC utilizes a strict QA/QC protocol when conducting an MIP study that is second to none, allowing our clients to be sure that the data they receive is data they can rely on.
During an MIP study a stream of data is produced that can be viewed in real time as the probe is being pushed into the ground. After each log is completed hard copies of that data can be printed out and reviewed. The ability to provide this data in real time is invaluable towards the development of a site conceptual model (SCM). As data is gathered and reviewed changes can be made to the SCM on the fly. When necessary, in order to "ground truth" the data collected from the MIP logs AEC technicians can quickly convert back to direct push mode and collect discrete soil and groundwater samples that can be delivered to our in-house analytical laboratory for next day analysis. Just another example of how our services can be your advantages.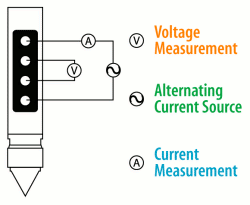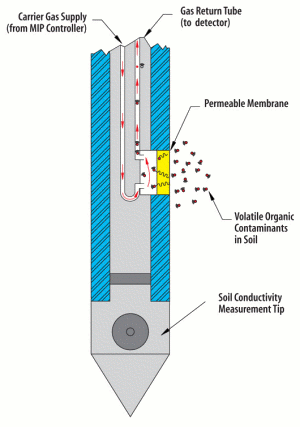 Not only does AEC provide the kind of raw data obtained from an MIP study as shown above we also have expertly trained staff capable of rendering three dimensional models of contaminant plumes and susburface conductivity data. This powerful ability allows our consultants to visualize whats going on in the subsurface, providing valuable insight into contaminant distribution and transport. Scroll down to see some examples of three dimensional models created by our skilled technicians showing the distribution of hydrocarbon contaminants in the subsurface at a site located on the western shore of Maryland. Read More