Environmental Site Assessments
Advanced Environmental Concepts, Inc has been providing clients with innovative, reliable and cost effective site assessment services since 1997. Our staff has conducted environmental site assessments throughout the mid-Atlantic region for over a decade. Coupled with AECs in-house laboratory and fully staffed drilling division our assessment services are designed to fit the needs the local mom & pop service stations as well as the nationwide environmental consulting firm. AEC is dedicated to providing superior customer service on every project every time.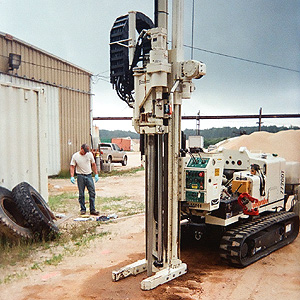 AEC's Drilling Serivces
Advanced Environmental Concepts currently has three direct push and hollow stem auger capable drill rigs that are mounted on a track platform. Our fleet includes the GeoProbe 6620 DT, 7720 DT and the 54 LT. The versatility of these rigs allows AEC to provide a wide range of drilling services to our clients such as direct push macro coring at four or five foot intervals in the toughest of drilling conditions, and monitoring well installation of up to four (4) inches in diameter by direct push or hollow stem auger drilling techniques. AEC technicians are highly skilled in the implementation of many different types of soil, gas and groundwater sampling systems and are always at the cutting edge of industry technology. AEC also works closely with many highly reputable drilling contractors in the region and would gladly provide references and/or subcontracting services.
Phase I/Phase II Environmental Site Assessments
AEC has performed hundreds of Phase I and Phase II Environmental Site Assessments all over the country. Our staff are educated and certified in the ASTM E 1527-05 standard and will stand behind every report we send out so our clients can make sound business decisions with confidence.
We feel that AEC is uniquely capable of providing the most cost effective site assessments to our clients due to our highly trained staff, fixed analytical laboratory and fleet of direct push drill rigs. Your site assessment will be completed in house and on time with the utmost professionalism.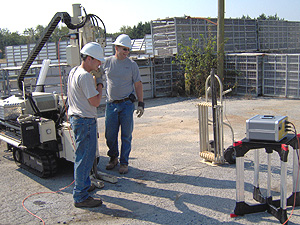 Drilling & Direct Imaging Services
AECs direct imaging services are a new and exciting field providing our scientists and clients with powerful site assessment tools. Electrical conductivity (EC) logging combined with membrane interface probe (MIP) technology allows our scientists to precisely map and log contaminant plumes in the subsurface in real time without the need for costly traditional sampling that can take weeks. AEC has incorporated MIP logging along with traditional sampling study into our feasibility study protocols. Which combined with our laboratory bench testing ensure that our clients site assessments and remediation projects are designed to succeed.
div class="kd-service kdleft">
Laboratory Services
AEC established its environmental, industrial and research laboratory in 1998 with the dedication of producing legally defensible, scientifically sound analytical data. read more >
Remediation Services
AEC is known as an industry leader in the implementation of new technologies and methods for the remediation of soil, soil vapor and groundwater. read more >